The 2020 health emergency highlighted both the need for and our ability to respond to global emergencies.
When there's a will, there's a way.
Mill Hill Automation is doing our bit by achieving carbon-zero by 2025 because that's what science tells us we need to do.
It's actually been easier than we thought and comes with cost savings in many areas such as electricity supply and mileage expenses. Those savings help to offset the increased costs which come from ditching corner-cutting planet-destroying suppliers and old fashioned practices.
Like most businesses, we have a long way to go but the solutions are clear and we're prioritising implementing them.
Our biggest remaining polluter is web-hosting, and we aim to upgrade or offset that by the end of 2022, meaning your website will also become carbon-neutral as a bonus!
Eliminating
First we do all the simple things which are just a matter of switching supplier.
The biggest and easiest was our office electricity supplier. Switching that to a renewable provider slashed both our pollution emissiosn and our energy bills.
It took 45 minutes to implement.
The vehicle we use for company trips is a 100% electric Renault Zoe, charged up, of course, using our renewable electricity. Learning about EVs was more difficult, feel free to give us a call for some free advice on what we learned.
We have partially replaced the gas-powered heating in the office with a heat pump – so most of our heating is now carbon netural.
Reducing
Next we reduce anything which is more difficult, this is where we'll have to change some of the ways our business works.
We still have many areas of the business to address, but we aim to work on these steadily over the coming year.
There's no reason we can't be carbon-zero long before 2025.
The following areas of the business are not yet carbon netural, let alone carbon zero:
Website Hosting
Systems Hosting
Hot-water in the office
Office Supplies (Mostly Coffee!)
Offsetting
While we work on eliminating and reducing our pollution, we've taken out a standard offsetting package from Ecologi.
Offsetting is a short-term solution to the carbon crisis – it helps to fund carbon-zero projects while giving us a bit more time to work towards carbon zero.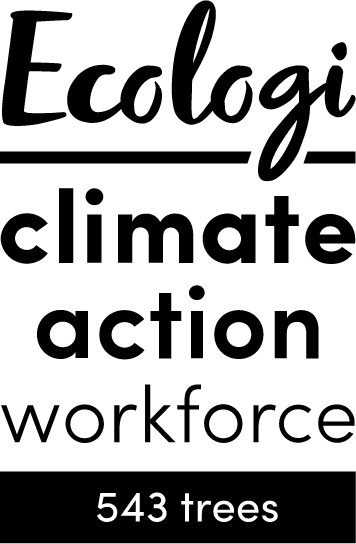 It's not easy to find genuinly beneficial carbon offsetting, but GoldStandard.org is one of them (and Ecologi use them).
We're learning as we go, if you'd like to come on this journey with us – get in touch to see how we can cooperate to leave a clean ande liveable Mill Hill for our children.